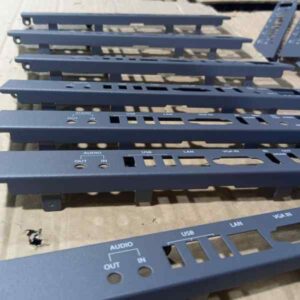 ATM full form is Automated Teller Machine which is a self-service banking outlet.  The production process for ATM casings includes the following steps:
Design: The design of the ATM housing is typically created using computer-aided design (CAD) software. The design must take into account the requirements of the ATM, including the dimensions of the components that will be housed inside.
Material Selection: The material selected for the ATM enclosure must be strong, durable, and resistant to weather and tampering. Common materials used for ATM enclosures include steel, aluminum and composite materials.
Cutting and Shaping: The selected material is cut and shaped using specialized tools such as CNC machines, lasers or waterjets. This process ensures that the enclosure is cut to the exact size and to the desired specifications.
Joining: Parts of the enclosure are joined together using welding, riveting or other methods. This process ensures that the enclosure is strong and secure.
Surface Treatment: The surface of the ATM enclosure is treated with paint, powder coating, or anodizing. This process provides a protective layer against corrosion and wear.
Assembly: The ATM components are assembled inside the housing, including the keypad, screen and dispenser. Wiring and connections are put together to connect the components.
Testing: The ATM is tested to ensure that all components are working properly and that the enclosure is secure and tamper-proof.
Shipping: The ATM is packaged and shipped to the installation site, where it is installed and prepared for customer use.
The ATM enclosure manufacturing process requires a high level of precision and attention to detail to ensure that the ATM is safe, reliable and functional.
Custom Metal Box Manufacturers | Custom Sheet Metal Enclosures | Custom Aluminum Box | Custom Sheet Metal Boxes | Custom Metal Boxes | Sheet Metal Supplier | Steel Box Manufacturers | Sheet Metal Box Manufacturers | Custom Made Metal Boxes | China Sheet Metal Manufacturer | Outdoor Vending Machine Enclosures | Industrial Machine Enclosures | Metal Enclosures for Electronics | EV Charger Outdoor Enclosure | Outdoor EV Charger Enclosure | EV Charger Enclosure | Custom Aluminium Box | Custom Steel Box | Metal Box Supplier | Metal Enclosure Manufacturer | Sheet Metal Enclosure Manufacturers | Metal Enclosure Box Manufacturer | Metal Enclosure Manufacturer | Aluminium Box Manufacturer | Outdoor Equipment Enclosures | Aluminium Box Manufacturers | Equipment Enclosures Metal | Metal Enclosure Box | Metal Enclosure | Enclosure Box Price | Sheet Metal Manufacturers | Sheet Metal Manufacturing companies | Custom Made Aluminium Boxes | Custom Made Metal Box | Aluminum Sheet Metal Fabrication | Aluminium Sheet Metal Fabrication | Auminium Tool Boxes Made to Order | Custom Metal Enclosures | Custom Stainless Steel Box | Custom Made Aluminum Boxes | Metal Box Manufacturers | Custom Steel Enclosures | Custom Stainless Steel Enclosures | Custom Metal Box | Custom Aluminium Box | Sheet Metal Fabrication Supplier | China Sheet Metal Fabrication | Custom Sheet Metal Fabrication | Sheet Metal Fabrication Services | Metal Manufacturing in China | Aluminum Box Fabrication | Sheet Metal Box Fabrication | Sheet Metal China | Precision Sheet Metal Fabrication | Custom Aluminum Box Fabrication | Custom Metal Box Fabrication