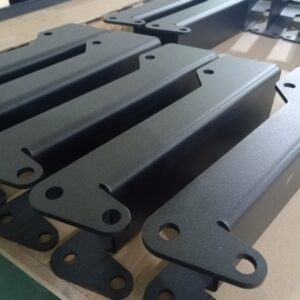 Aluminum profile is a non-ferrous metal structural material widely used in industry, it is widely used in aviation, aerospace, automobile, machinery manufacturing, shipbuilding and chemical industry, especially for shells. Using aluminum profiles to do the shell, then what are the characteristics of aluminum profile shell? The next small part will introduce you.
1, aluminum profile shell is relatively light, the specific gravity of aluminum alloy is relatively small, but good strength.
2, aluminum profile shell can make complex cross-section, as long as the mold design can extrude the desired shape, such as servo motor shell periphery has a prominent heat sink, can bring its own heat dissipation function.
3, aluminum profile shell corrosion resistance, aluminum alloy shell will generally do some surface treatment, such as anodic oxidation, spraying and so on, on the one hand, can change its color, on the other hand, can protect the aluminum substrate from oxidation and corrosion. But even if there is no surface treatment of the aluminum shell is not easy to be corroded, because the aluminum alloy itself is not easy to oxidation of the material.
4, aluminum profile shell is generally not very large, because the aluminum profile shell is an extrusion profile, the larger the diameter of the shell needs the larger the tonnage of the extruder, the higher the die cost. Of course, there are super-large shell is extruded production, such as the subway car.
5, aluminum profile shells are two through, and only one cross-section, which is the commonality of extrusion materials, that is, if the shell is to be closed, both ends should be added to the end cover; if the shell is to be formed in one piece, the bottom is closed, or the front and back of the shell of different sizes, it can only be die-cast.
Custom Metal Box Manufacturers | Custom Sheet Metal Enclosures | Custom Aluminum Box | Custom Sheet Metal Boxes | Custom Metal Boxes | Sheet Metal Supplier | Steel Box Manufacturers | Sheet Metal Box Manufacturers | Custom Made Metal Boxes | China Sheet Metal Manufacturer | Outdoor Vending Machine Enclosures | Industrial Machine Enclosures | Metal Enclosures for Electronics | EV Charger Outdoor Enclosure | Outdoor EV Charger Enclosure | EV Charger Enclosure | Custom Aluminium Box | Custom Steel Box | Metal Box Supplier | Metal Enclosure Manufacturer | Sheet Metal Enclosure Manufacturers | Metal Enclosure Box Manufacturer | Metal Enclosure Manufacturer | Aluminium Box Manufacturer | Outdoor Equipment Enclosures | Aluminium Box Manufacturers | Equipment Enclosures Metal | Metal Enclosure Box | Metal Enclosure | Enclosure Box Price | Sheet Metal Manufacturers | Sheet Metal Manufacturing companies | Custom Made Aluminium Boxes | Custom Made Metal Box | Aluminum Sheet Metal Fabrication | Aluminium Sheet Metal Fabrication | Auminium Tool Boxes Made to Order | Custom Metal Enclosures | Custom Stainless Steel Box | Custom Made Aluminum Boxes | Metal Box Manufacturers | Custom Steel Enclosures | Custom Stainless Steel Enclosures | Custom Metal Box | Custom Aluminium Box | Sheet Metal Fabrication Supplier | China Sheet Metal Fabrication | Custom Sheet Metal Fabrication | Sheet Metal Fabrication Services | Metal Manufacturing in China | Aluminum Box Fabrication | Sheet Metal Box Fabrication | Sheet Metal China | Precision Sheet Metal Fabrication