There are generally four steps in the painting sheet metal process, first dealing with the grass-roots level, then doing a layer of primer, and then adding an intermediate layer of paint, which is to do the top layer.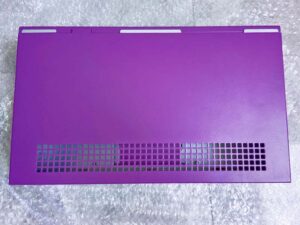 Base layer treatment: The base layer of sheet metal processing products need to do the rust removal treatment first.
Primer: Sheet metal processing uses epoxy zinc-rich primer, the purpose of this layer of primer is mainly to protect the steel structure and steel products, rust prevention. Its coating film has good physical and chemical properties, easy to construct, and good matching performance.
Intermediate paint: sheet metal processing products used for epoxy cloud iron intermediate paint, and epoxy zinc-rich primer supporting the use of long-lasting anti-corrosion coating transition layer, its role is to enhance the closure of the composite coating and corrosion resistance, can also be used as anti-corrosion and rust primer. The coating film is strong, with good adhesion and sealing, and good matching with the front and back coating.
As mentioned above, we can see that painting the surface of sheet metal after processing is of great significance to sheet metal processing, and painting the surface has a protective effect on sheet metal. Whether the sheet metal chassis and cabinets, equipment shells are exposed to the air, they will not be oxidized under the protection of the paint layer, so they will not rust and have the effect of waterproof and rust prevention.
Custom Metal Box Manufacturers | Custom Sheet Metal Enclosures | Custom Aluminum Box | Custom Sheet Metal Boxes | Custom Metal Boxes | Sheet Metal Supplier | Steel Box Manufacturers | Sheet Metal Box Manufacturers | Custom Made Metal Boxes | China Sheet Metal Manufacturer | Outdoor Vending Machine Enclosures | Equipment Enclosures | Machinery Enclosures | Machine Enclosure | Machine Enclosures | Industrial Machine Enclosures | Metal Enclosures for Electronics | EV Charger Outdoor Enclosure | Outdoor EV Charger Enclosure | EV Charger Enclosure | Custom Aluminium Box | Custom Steel Box | Metal Box Supplier | Metal Enclosure Manufacturer | Sheet Metal Enclosure Manufacturers | Metal Enclosure Box Manufacturer | Metal Enclosure Manufacturer | Aluminium Box Manufacturer | Outdoor Equipment Enclosures | Enclosure for EV Charger | EV Charging Enclosure | EV Charger Enclosure | Aluminium Box Manufacturers | Equipment Enclosures Metal | Sheet Metal Enclosure | Metal Enclosure Box | Metal Enclosure | Enclosure Box Price | Sheet Metal Manufacturers | Sheet Metal Manufacturing companies