A machine enclosure is a protective housing designed to cover and protect. Machine enclosures are usually made of steel, aluminum or plastic and are often customized to fit specific machines or equipment.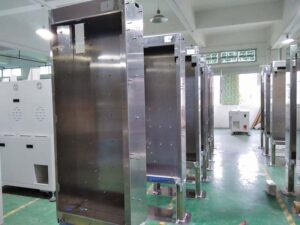 Protecting personnel. Machine enclosures help protect personnel from machine and equipment hazards, such as moving parts, heat or flying debris.
Protecting machines. Machine enclosures also protect machines from damage or interference from external elements such as dust, moisture or vibration.
Contains dust and debris. Certain types of machines and equipment can generate dust, debris or other types of particles that can be hazardous to people or the environment. Machine enclosures can help contain these particles and prevent them from spreading and causing hazards.If needed, look for a sheet metal manufacturer to customize .
Custom Metal Box Manufacturers | Custom Sheet Metal Enclosures | Custom Aluminum Box | Custom Sheet Metal Boxes | Custom Metal Boxes | Sheet Metal Supplier | Steel Box Manufacturers | Sheet Metal Box Manufacturers | Custom Made Metal Boxes | China Sheet Metal Manufacturer | Outdoor Vending Machine Enclosures | Equipment Enclosures | Machinery Enclosures | Machine Enclosure | Machine Enclosures | Industrial Machine Enclosures | Metal Enclosures for Electronics | EV Charger Outdoor Enclosure | Outdoor EV Charger Enclosure | EV Charger Enclosure | Custom Aluminium Box | Custom Steel Box | Metal Box Supplier | Metal Enclosure Manufacturer | Sheet Metal Enclosure Manufacturers | Metal Enclosure Box Manufacturer | Metal Enclosure Manufacturer | Aluminium Box Manufacturer | Outdoor Equipment Enclosures | Enclosure for EV Charger | EV Charging Enclosure | EV Charger Enclosure | Aluminium Box Manufacturers | Equipment Enclosures Metal | Sheet Metal Enclosure | Metal Enclosure Box | Metal Enclosure | Enclosure Box Price | Sheet Metal Manufacturers | Sheet Metal Manufacturing companies