Custom sheet metal chassis can be fabricated using a variety of techniques and tools. The following are the basic steps in the fabrication of a custom sheet metal chassis.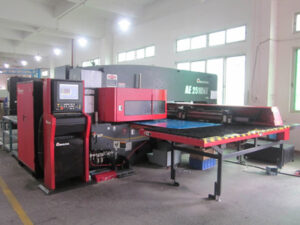 Design. Begin by designing the chassis in CAD software or a 3D modeling program.
Material Selection. Choose the right sheet metal material for your chassis based on factors such as strength, weight and cost.
Manufacturing process: cutting, bending, welding.
Finishing: Use sandpaper or grind the chassis to remove any rough edges or burrs. You can also add a finish, such as paint or powder coating, to protect the chassis from corrosion or wear.
Assembly. Assemble any additional parts, such as electrical or mechanical, to the chassis.
It's important to note that custom sheet metal chassis fabrication requires a high degree of precision and expertise. Consider working with a professional sheet metal supplier to ensure that your custom chassis is built to your exact specifications and meets any necessary standards or regulations.
Custom Metal Box Manufacturers | Custom Sheet Metal Enclosures | Custom Aluminum Box | Custom Sheet Metal Boxes | Custom Metal Boxes | Sheet Metal Supplier | Steel Box Manufacturers | Sheet Metal Box Manufacturers | Custom Made Metal Boxes | China Sheet Metal Manufacturer | Outdoor Vending Machine Enclosures | Equipment Enclosures | Machinery Enclosures | Machine Enclosure | Machine Enclosures | Industrial Machine Enclosures | Metal Enclosures for Electronics | EV Charger Outdoor Enclosure | Outdoor EV Charger Enclosure | EV Charger Enclosure | Custom Aluminium Box | Custom Steel Box | Metal Box Supplier | Metal Enclosure Manufacturer | Sheet Metal Enclosure Manufacturers | Metal Enclosure Box Manufacturer | Metal Enclosure Manufacturer | Aluminium Box Manufacturer | Outdoor Equipment Enclosures