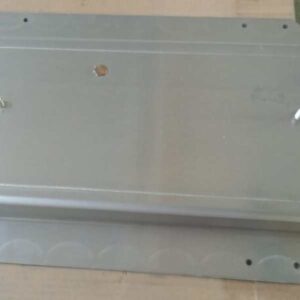 There are many different materials commonly used in sheet metal. Almost all sheet metal materials need to be bent. Each material has a different bending process and different considerations. Let's briefly describe the bending process of various sheet metal materials.
1. Carbon steel plate, also known as SPPC cold rolled steel plate. SPPC cold rolled steel plate is the most commonly used material in sheet metal processing, and it is also the easiest material to realize the sheet metal bending process. It is particularly suitable for sheet metal bending because of its good ductility. In addition, because SPPC sheet requires subsequent surface treatment, it can cover up the defects caused by the bending process.
2. stainless steel plate, generally commonly used in sus201, sus304, sus316, 1Cr17, etc.. Because stainless steel rust resistance is relatively strong, can be used in wet environments or outdoor without surface treatment. For sheet metal bending there are new requirements. Generally speaking, for the perfect view of sheet metal parts processing, the surface must not have scratches and folds. In normal sheet metal bending, there is sliding friction between the sheet metal material and the bending lower die, which will form creases.
3. For aluminum and copper plates, generally the surface is not allowed to have scratches and indentations. Another point is more special, bending is prone to cracks. Copper plates generally do not have cracks, brass plates are worse, and aluminum plates are prone to cracks in many types of bending.
4. Hot rolled steel sheet. The above materials require different bending process for operation due to material properties. Hot-rolled steel plate is the most afraid of bending material, but also the most difficult to fold the material. Because of its rolling process, the surface will generate a very hard layer of iron tetroxide, the internal material mechanical properties of elongation is not very good, in the bending process is easy to crack. The biggest problem is: hot-rolled steel plate if you buy cheap material, the quality is not stable, the internal mechanical properties are not consistent, the same plate material thickness is not consistent. The bending angle is large and small, and the same bending angle is inconsistent, and after adjusting it properly, in making the next sheet metal part, the angle is inconsistent with the previous one, full of uncertainties, so it is listed as the most difficult material for sheet metal bending, and the most feared material.
Custom Metal Box Manufacturers | Custom Sheet Metal Enclosures | Custom Aluminum Box | Custom Sheet Metal Boxes | Custom Metal Boxes | Sheet Metal Supplier | Steel Box Manufacturers | Sheet Metal Box Manufacturers | Custom Made Metal Boxes | China Sheet Metal Manufacturer | Outdoor Vending Machine Enclosures | Industrial Machine Enclosures | Metal Enclosures for Electronics | EV Charger Outdoor Enclosure | Outdoor EV Charger Enclosure | EV Charger Enclosure | Custom Aluminium Box | Custom Steel Box | Metal Box Supplier | Metal Enclosure Manufacturer | Sheet Metal Enclosure Manufacturers | Metal Enclosure Box Manufacturer | Metal Enclosure Manufacturer | Aluminium Box Manufacturer | Outdoor Equipment Enclosures | Aluminium Box Manufacturers | Equipment Enclosures Metal | Metal Enclosure Box | Metal Enclosure | Enclosure Box Price | Sheet Metal Manufacturers | Sheet Metal Manufacturing companies | Custom Made Aluminium Boxes | Custom Made Metal Box | Aluminum Sheet Metal Fabrication | Aluminium Sheet Metal Fabrication | Auminium Tool Boxes Made to Order | Custom Metal Enclosures | Custom Stainless Steel Box | Custom Made Aluminum Boxes | Metal Box Manufacturers | Custom Steel Enclosures | Custom Stainless Steel Enclosures | Custom Metal Box | Custom Aluminium Box | Sheet Metal Fabrication Supplier | China Sheet Metal Fabrication | Custom Sheet Metal Fabrication | Sheet Metal Fabrication Services | Metal Manufacturing in China | Aluminum Box Fabrication | Sheet Metal Box Fabrication | Sheet Metal China | Precision Sheet Metal Fabrication | Custom Aluminum Box Fabrication | Custom Metal Box Fabrication | Sheet Metal Manufacturing | Metal Manufacturing Company | Metal Bending Services