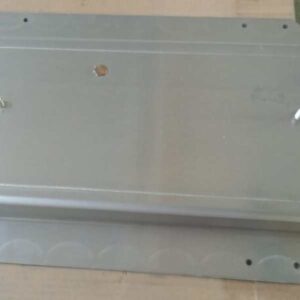 Surface treatment is one of the processes used in sheet metal fabrication. Surface treatment can be applied to parts manufactured from sheet metal to increase the life of the product in harsh environments or to achieve a specific surface effect/function. Common surface treatment methods used in sheet metal fabrication include.
1. Polishing: Pre-polishing uses a hard or stiff polishing wheel to treat the surface of the polished stainless steel sheet metal, which can go out to polish the surface with a rough mark. Fine polishing can remove the traces left by pre-polishing and use the pre-polished soft surface for further processing to obtain a bright mirror finish.
2, silkscreen: silkscreen effect refers to the use of grinding and polishing machines, the use of brush wheels equipped with craft decorative silk brushes and satin polishing effect on the working surface of the stainless steel plate.
3, sandblasting treatment: sandblasting effect is the use of compressed air flow to sand, steel or glass shot and other abrasives sprayed onto the processing surface of stainless steel sheet metal to produce a beautiful, slightly rough, sandy surface appearance.
4、Baked coating: a commonly used surface treatment method (- there are generally two kinds of liquid baking paint and powder baking paint), sprayed with various colors of paint layer, used to beautify the appearance of the surface of sheet metal processing materials, through such as high temperature baking, can increase the corrosion resistance of the material.
5、Electroplating: This is a common surface treatment method, through a chemical reaction, other metal layers are attached to the surface of sheet metal processing materials to increase the corrosion resistance of the metal and achieve a certain beautifying effect, such as: electroplating zinc, electroplating nickel, etc.
6、Anodic oxidation: Metal oxidation on the surface of sheet metal processing is generally used to form a dense protective film on the surface of the workpiece in order to improve the corrosion resistance of the workpiece. There are generally two methods: chemical oxidation and anodic oxidation.
The six main surface treatment methods in sheet metal fabrication can be summarized as polishing, mercerizing, sandblasting, baking, electroplating and anodizing. In the surface treatment of sheet metal processing, it is necessary to choose the appropriate surface treatment method according to the characteristics of the sheet metal processing parts made of different materials.
Custom Metal Box Manufacturers | Custom Sheet Metal Enclosures | Custom Aluminum Box | Custom Sheet Metal Boxes | Custom Metal Boxes | Sheet Metal Supplier | Steel Box Manufacturers | Sheet Metal Box Manufacturers | Custom Made Metal Boxes | China Sheet Metal Manufacturer | Outdoor Vending Machine Enclosures | Industrial Machine Enclosures | Metal Enclosures for Electronics | EV Charger Outdoor Enclosure | Outdoor EV Charger Enclosure | EV Charger Enclosure | Custom Aluminium Box | Custom Steel Box | Metal Box Supplier | Metal Enclosure Manufacturer | Sheet Metal Enclosure Manufacturers | Metal Enclosure Box Manufacturer | Metal Enclosure Manufacturer | Aluminium Box Manufacturer | Outdoor Equipment Enclosures | Aluminium Box Manufacturers | Equipment Enclosures Metal | Metal Enclosure Box | Metal Enclosure | Enclosure Box Price | Sheet Metal Manufacturers | Sheet Metal Manufacturing companies | Custom Made Aluminium Boxes | Custom Made Metal Box | Aluminum Sheet Metal Fabrication | Aluminium Sheet Metal Fabrication | Auminium Tool Boxes Made to Order | Custom Metal Enclosures | Custom Stainless Steel Box | Custom Made Aluminum Boxes | Metal Box Manufacturers | Custom Steel Enclosures | Custom Stainless Steel Enclosures | Custom Metal Box | Custom Aluminium Box | Sheet Metal Fabrication Supplier | China Sheet Metal Fabrication | Custom Sheet Metal Fabrication | Sheet Metal Fabrication Services | Metal Manufacturing in China | Aluminum Box Fabrication | Sheet Metal Box Fabrication | Sheet Metal China | Precision Sheet Metal Fabrication | Custom Aluminum Box Fabrication | Custom Metal Box Fabrication | Sheet Metal Manufacturing | Metal Manufacturing Company | Metal Bending Services