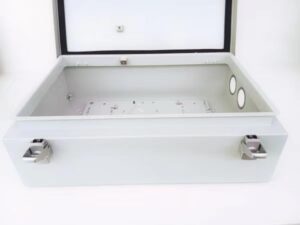 Sheet metal processing plays an increasingly important role in our life. It is the process of processing metal sheets in various ways to change the shape and properties of the original sheet. Sheet metal processing can realize small batch processing of workpieces and simultaneous processing of different parts, and the processing speed is fast, which greatly improves the production down and reduces the production cost input. In the process of sheet metal processing, "plastic deformation" sometimes occurs.
Plastic deformation in sheet metal processing is a common process. Deformation between grains is difficult because the grains are connected by interatomic attraction and mechanical interlocking forces between the grains. The sliding between grains is very slight and can easily cause structural fractures at grain boundaries, which can lead to fracture of the metal. The process of intergranular rotation is quite complex, due to the fact that individual grains in different directions in a polycrystal tend to rotate in a direction favorable to inside the crystals sliding and are mutually constrained. The phenomenon of grain rotation can be observed after stamping and forming of coarse grains of sheet metal, which is the so-called "orange peel" phenomenon of uneven surface of machined sheet metal parts.
The plastic deformation of polycrystals is also influenced by grain boundaries during sheet metal processing. The presence of grain boundaries makes the strength and hardness of polycrystals higher than that of single crystals. The finer the grains in a polycrystal, the larger the proportion of grain boundary area, and the higher the strength and hardness of the metal. In addition, the finer the grain, the easier it is for the deformation to be dispersed among many grains, so the deformation is more uniform and less likely to lead to stress concentration and metal damage.
In summary, this is the plastic deformation process in sheet metal processing. In sheet metal processing, the plastic deformation of metal materials are all caused by the external force applied to the material by the punching die, caused by the direct action of internal forces or internal forces.
Custom Metal Box Manufacturers | Custom Sheet Metal Enclosures | Custom Aluminum Box | Custom Sheet Metal Boxes | Custom Metal Boxes | Sheet Metal Supplier | Steel Box Manufacturers | Sheet Metal Box Manufacturers | Custom Made Metal Boxes | China Sheet Metal Manufacturer | Outdoor Vending Machine Enclosures | Equipment Enclosures | Machinery Enclosures | Machine Enclosure | Machine Enclosures | Industrial Machine Enclosures | Metal Enclosures for Electronics | EV Charger Outdoor Enclosure | Outdoor EV Charger Enclosure | EV Charger Enclosure | Custom Aluminium Box | Custom Steel Box | Metal Box Supplier | Metal Enclosure Manufacturer | Sheet Metal Enclosure Manufacturers | Metal Enclosure Box Manufacturer | Metal Enclosure Manufacturer | Aluminium Box Manufacturer | Outdoor Equipment Enclosures | Enclosure for EV Charger | EV Charging Enclosure | EV Charger Enclosure | Aluminium Box Manufacturers | Equipment Enclosures Metal | Sheet Metal Enclosure | Metal Enclosure Box | Metal Enclosure | Enclosure Box Price | Sheet Metal Manufacturers | Sheet Metal Manufacturing companies | Custom Made Aluminium Boxes | Custom Made Metal Box | Aluminum Sheet Metal Fabrication | Aluminium Sheet Metal Fabrication | Auminium Tool Boxes Made to Order | Custom Metal Enclosures | Custom Stainless Steel Box | Custom Made Aluminum Boxes | Metal Box Manufacturers | Custom Steel Enclosures | Custom Stainless Steel Enclosures | Custom Metal Box | Custom Aluminium Box