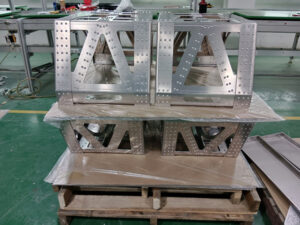 First of all, the shell of portable energy storage equipment is important to have the maintenance of the internal electronic components, in the shell design must do a good job on the ecological provisions of the equipment, energy storage power supply circuit to do the product in the waterproof, anti-fouling, seismic rating, cable sheathing, electric shock prevention and other aspects of safety performance requirements, to ensure that the equipment quality qualified, rugged and trustworthy.
Secondly, the shell design of mobile energy storage equipment needs to be simple, both in line with the aesthetic concept of the public, but also with the characteristics of the product itself, focusing on raw materials, professionalism, hues and other key aspects of the design, the integration of corporate elements in the design of the program, the performance of corporate brand characteristics, making it more visually impactful and unusual.
In addition, the portable energy storage power supply shell design also needs to take into account the customer operation process of human-computer interaction technology feeling, the design should be as humane as possible, the appearance should be as unique as possible, the operation control panel should be as simple and specific and visualized, the design of the function keys should be closely integrated with ergonomics. Tactile comfort, conducive to the customer's operating process Of course, there are many key aspects of the mobile energy storage equipment shell design need to pay attention to, such as heat dissipation, ecological protection, production costs, transportation, maintenance and other key aspects of the processing, in the program design must be fully considered to ensure the feasibility of the program design.
Custom Metal Box Manufacturers | Custom Sheet Metal Enclosures | Custom Aluminum Box | Custom Sheet Metal Boxes | Custom Metal Boxes | Sheet Metal Supplier | Steel Box Manufacturers | Sheet Metal Box Manufacturers | Custom Made Metal Boxes | China Sheet Metal Manufacturer | Outdoor Vending Machine Enclosures | Equipment Enclosures | Machinery Enclosures | Machine Enclosure | Machine Enclosures | Industrial Machine Enclosures | Metal Enclosures for Electronics | EV Charger Outdoor Enclosure | Outdoor EV Charger Enclosure | EV Charger Enclosure | Custom Aluminium Box | Custom Steel Box | Metal Box Supplier | Metal Enclosure Manufacturer | Sheet Metal Ductwork Fabrication | Metal Enclosure Box Manufacturer | Metal Enclosure Manufacturer | Aluminium Box Manufacturer | Outdoor Equipment Enclosures | Enclosure for EV Charger | EV Charging Enclosure | EV Charger Enclosure | Aluminium Box Manufacturers | Equipment Enclosures Metal | Sheet Metal Enclosure | Metal Enclosure Box | Metal Enclosure | Enclosure Box Price | Sheet Metal Manufacturers | Sheet Metal Manufacturing companies | Custom Made Aluminium Boxes | Custom Made Metal Box | Aluminum Sheet Metal Fabrication | Aluminium Sheet Metal Fabrication | Auminium Tool Boxes Made to Order | Custom Metal Enclosures | Custom Stainless Steel Box | Custom Made Aluminum Boxes | Metal Box Manufacturers | Custom Steel Enclosures | Custom Stainless Steel Enclosures | Custom Metal Box | Custom Aluminium Box