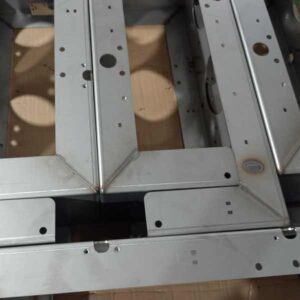 The surface treatment of sheet metal processing process is recognized by many industries for its decorative and protective effects on the surface of products. In the sheet metal processing industry, the surface treatment methods usually used are electroplating, spraying and some other surface treatment methods.
1、Electroplating is divided into: galvanizing, nickel plating, chrome plating, etc.; it mainly forms a protective layer on the surface of the material, which plays a protective and decorative role.
2、Spraying is divided into two types: spraying paint and spraying powder, which are used to spray paint onto the surface of sheet metal workpieces with a spray gun after the material has been pretreated, and the paint forms a coating on the surface of the workpiece. After drying, it plays the role of protection.
3、Other surface treatment methods: anodic oxidation, chromate, brushing, sandblasting, oxidation, etc.
Caution!
1. all electrochemical treatment should be carried out in the state of the parts, because the chemical solution in the treatment process will be trapped in the gaps of the combined parts and cause corrosion;
2. spot-welded parts can be chemically treated, but not electrochemically treated (including electroplating, anodizing);
3. aluminum alloy castings cannot be anodized with sulfuric acid;
4. thin and long tube-shaped (its length is greater than 2 times the diameter) parts are generally not suitable for electrochemical treatment, because its inner surface will not have a film layer;
5. parts with deep grooves or fine holes (generally referred to as depths greater than 2 times the diameter or opening width, but good workmanship may not be subject to this restriction) will not be completely covered with plating on their inner surfaces after plating;
6. steel parts preferably phosphate treated before spraying to increase the adhesion of the coating;
7. bright nickel-plated steel parts can be primed with copper or dark nickel plating first in order to improve their corrosion resistance;
8. zinc-based alloys generally use electroplating for protective decoration, in order to improve the adhesion of its plating, generally need to be pre-plated with copper or nickel;
9. as most organic gases have a corrosive effect on zinc, the galvanized layer should be carefully selected in the design of sheet metal processing to be in contact with organic materials or assembled in the same confined body;
10. for plated parts with riveting requirements, the processing process must be plated first and then riveted.
Custom Metal Box Manufacturers | Custom Sheet Metal Enclosures | Custom Aluminum Box | Custom Sheet Metal Boxes | Custom Metal Boxes | Sheet Metal Supplier | Steel Box Manufacturers | Sheet Metal Box Manufacturers | Custom Made Metal Boxes | China Sheet Metal Manufacturer | Outdoor Vending Machine Enclosures | Industrial Machine Enclosures | Metal Enclosures for Electronics | EV Charger Outdoor Enclosure | Outdoor EV Charger Enclosure | EV Charger Enclosure | Custom Aluminium Box | Custom Steel Box | Metal Box Supplier | Metal Enclosure Manufacturer | Sheet Metal Enclosure Manufacturers | Metal Enclosure Box Manufacturer | Metal Enclosure Manufacturer | Aluminium Box Manufacturer | Outdoor Equipment Enclosures | Aluminium Box Manufacturers | Equipment Enclosures Metal | Metal Enclosure Box | Metal Enclosure | Enclosure Box Price | Sheet Metal Manufacturers | Sheet Metal Manufacturing companies | Custom Made Aluminium Boxes | Custom Made Metal Box | Aluminum Sheet Metal Fabrication | Aluminium Sheet Metal Fabrication | Auminium Tool Boxes Made to Order | Custom Metal Enclosures | Custom Stainless Steel Box | Custom Made Aluminum Boxes | Metal Box Manufacturers | Custom Steel Enclosures | Custom Stainless Steel Enclosures | Custom Metal Box | Custom Aluminium Box | Sheet Metal Fabrication Supplier | China Sheet Metal Fabrication | Custom Sheet Metal Fabrication | Sheet Metal Fabrication Services | Metal Manufacturing in China | Aluminum Box Fabrication | Sheet Metal Box Fabrication | Sheet Metal China | Precision Sheet Metal Fabrication | Custom Aluminum Box Fabrication | Custom Metal Box Fabrication