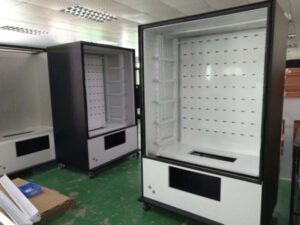 Powder-coated metal cabinets are a type of storage unit that is made of metal and coated with a layer of powder paint. The powder paint is applied using a process called electrostatic spray deposition, which involves electrically charging the powder particles so that they adhere to the metal surface.
The powder coating provides a durable and attractive finish that resists chipping, scratching, and fading. It also offers excellent protection against moisture, rust, and corrosion, making powder-coated metal cabinets suitable for use in a wide range of environments, including industrial, commercial, and residential settings.
When choosing powder-coated metal cabinets, it is essential to consider factors such as the size and weight capacity, the number and type of shelves, the locking mechanism, and the overall construction quality. Proper installation and maintenance can also help extend the life and performance of the cabinets.It is also important to choose a right sheet metal supplier.
Custom Metal Box Manufacturers | Custom Sheet Metal Enclosures | Custom Aluminum Box | Custom Sheet Metal Boxes | Custom Metal Boxes | Sheet Metal Supplier | Steel Box Manufacturers | Sheet Metal Box Manufacturers | Custom Made Metal Boxes | China Sheet Metal Manufacturer | Outdoor Vending Machine Enclosures | Equipment Enclosures | Machinery Enclosures | Machine Enclosure | Machine Enclosures | Industrial Machine Enclosures | Metal Enclosures for Electronics | EV Charger Outdoor Enclosure | Outdoor EV Charger Enclosure | EV Charger Enclosure