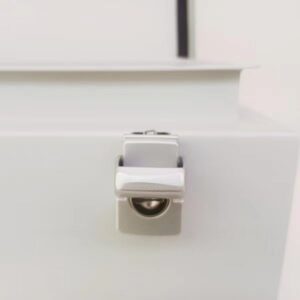 With the current demand for lightweighting in many markets, aluminum alloys are becoming a preferred choice for more and more component manufacturers. At the same time, the processing of aluminum alloy products has also attracted much attention, and aluminum housing is one of them. Currently there are matte aluminum shells in the market, generally speaking, the matte effect of aluminum shell surface is divided into physical and chemical processes.
1, the chemical process is generally divided into alkaline sand and acidic sand. Chemical process is generally carried out in the aluminum shell anodizing process. Alkaline sand process is to put the aluminum shell into a relatively high concentration of alkaline solution to corrode the surface of the profile, so as to form a matte effect, acid sand principle is similar to both will corrode part of the surface of the aluminum shell. However, this chemical process treatment of the aluminum shell will make the surface effect looks more natural, but will cause some damage to the aluminum shell, and is not very environmentally friendly. In addition, after the chemical process treatment of the aluminum shell of the inner cavity will also have a matte effect, but then the physical process described will not allow the cavity of the shell to change, maintaining the original appearance of the aluminum shell.
2, the physical process generally refers to sandblasting treatment, sand is the use of diamond sand, the aluminum shell material through the sandblasting machine, so that the fine dense sand in the aluminum shell surface to form even the naked eye can hardly see the small pits, presented to us in front of the aluminum shell is still smooth, in terms of visual effects, the light becomes matte. After sandblasting, the aluminum housing is anodized to form a dense and transparent oxide film on the surface to increase corrosion resistance.
Custom Metal Box Manufacturers | Custom Sheet Metal Enclosures | Custom Aluminum Box | Custom Sheet Metal Boxes | Custom Metal Boxes | Sheet Metal Supplier | Steel Box Manufacturers | Sheet Metal Box Manufacturers | Custom Made Metal Boxes | China Sheet Metal Manufacturer | Outdoor Vending Machine Enclosures | Industrial Machine Enclosures | Metal Enclosures for Electronics | EV Charger Outdoor Enclosure | Outdoor EV Charger Enclosure | EV Charger Enclosure | Custom Aluminium Box | Custom Steel Box | Metal Box Supplier | Metal Enclosure Manufacturer | Sheet Metal Enclosure Manufacturers | Metal Enclosure Box Manufacturer | Metal Enclosure Manufacturer | Aluminium Box Manufacturer | Outdoor Equipment Enclosures | Aluminium Box Manufacturers | Equipment Enclosures Metal | Metal Enclosure Box | Metal Enclosure | Enclosure Box Price | Sheet Metal Manufacturers | Sheet Metal Manufacturing companies | Custom Made Aluminium Boxes | Custom Made Metal Box | Aluminum Sheet Metal Fabrication | Aluminium Sheet Metal Fabrication | Auminium Tool Boxes Made to Order | Custom Metal Enclosures | Custom Stainless Steel Box | Custom Made Aluminum Boxes | Metal Box Manufacturers | Custom Steel Enclosures | Custom Stainless Steel Enclosures | Custom Metal Box | Custom Aluminium Box | Sheet Metal Fabrication Supplier | China Sheet Metal Fabrication | Custom Sheet Metal Fabrication | Sheet Metal Fabrication Services | Metal Manufacturing in China